2 Jun
Well, as expected, these past few months since moving into the new place have been spent making up for last year's dearth of productivity–in terms of writing, I mean. But they actually have been productive; all of my series except for The Family are caught up, with their next books published and out there, and so vampires next! But first, getting RPP's next publication together, to which end I am devoting my entire month of June. Nothing else. Just RPP and superheroes.
But yes, more on that soon!
For now, I want to explain my lack of net presence recently. I've been on and off social media often, but mostly off for the last few weeks, but I have a good reason.
And that reason is books. See–no better reason is possible!
So, our new house. It has this glorious, huge space in the front of it with a half-vaulted ceiling and lots of good light. This flows directly into another space obviously intended to be an eating area (because there's a pass-through from the kitchen). Then in the back of the house, there's a kitchen and another living space–the one with the fireplace, so clearly, that had to be our main sitting room.
What to do with this gigantic front space with the great ceiling though?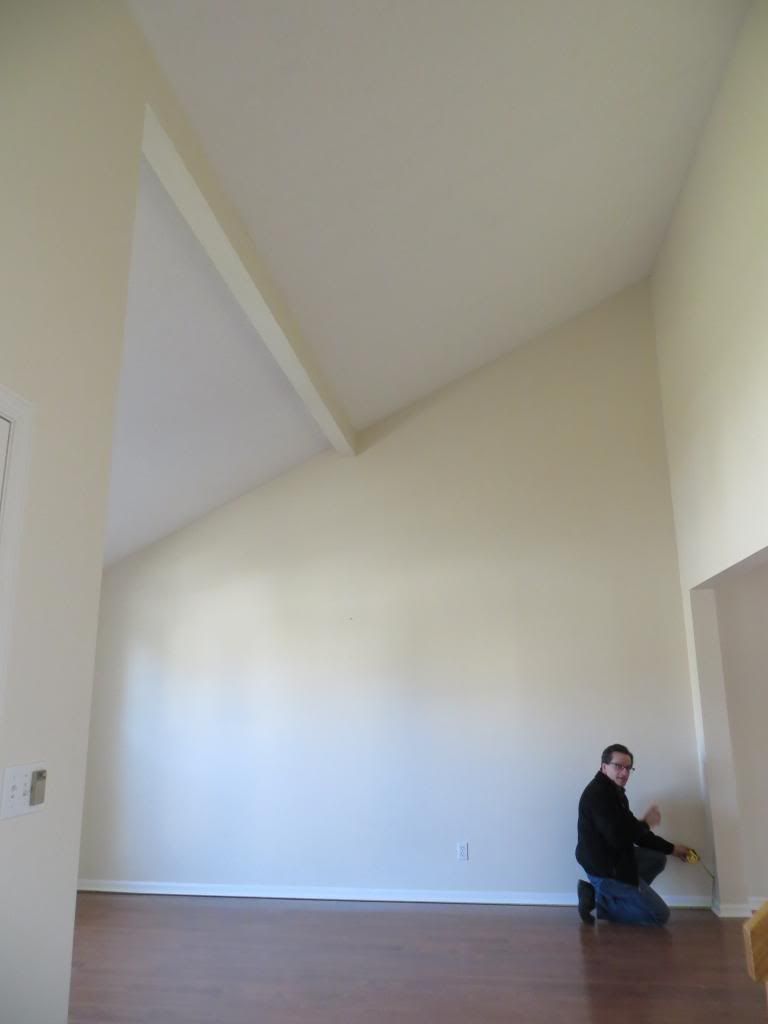 Obviously, it had to become a library.
I had this plan in my mind from the moment we offered on the house, and of course, Balaji was behind it. Because books. We've spent eight years piling our books up on top of each other, in front of each other, and every which way we could, which doesn't lend itself to finding things. To two such book lovers as ourselves, this is intolerable.
So we made a plan. And enlisted my mom and dad to help. Dad's a handy dude with a lot of power tools, and they were both super keen on the project. And so, Memorial Day weekend, they spent three days working their butts off with us. Partly to reclaim the yard from the landscaping, which had gone a bit Sleeping Beauty while the house was unoccupied, but mostly to this: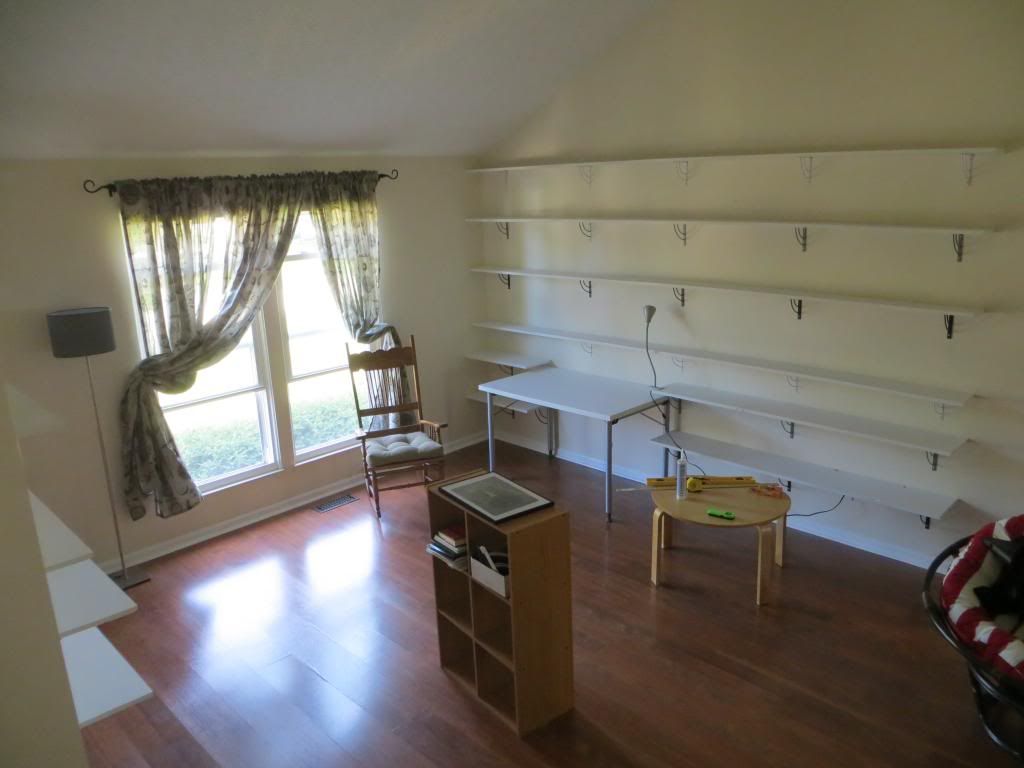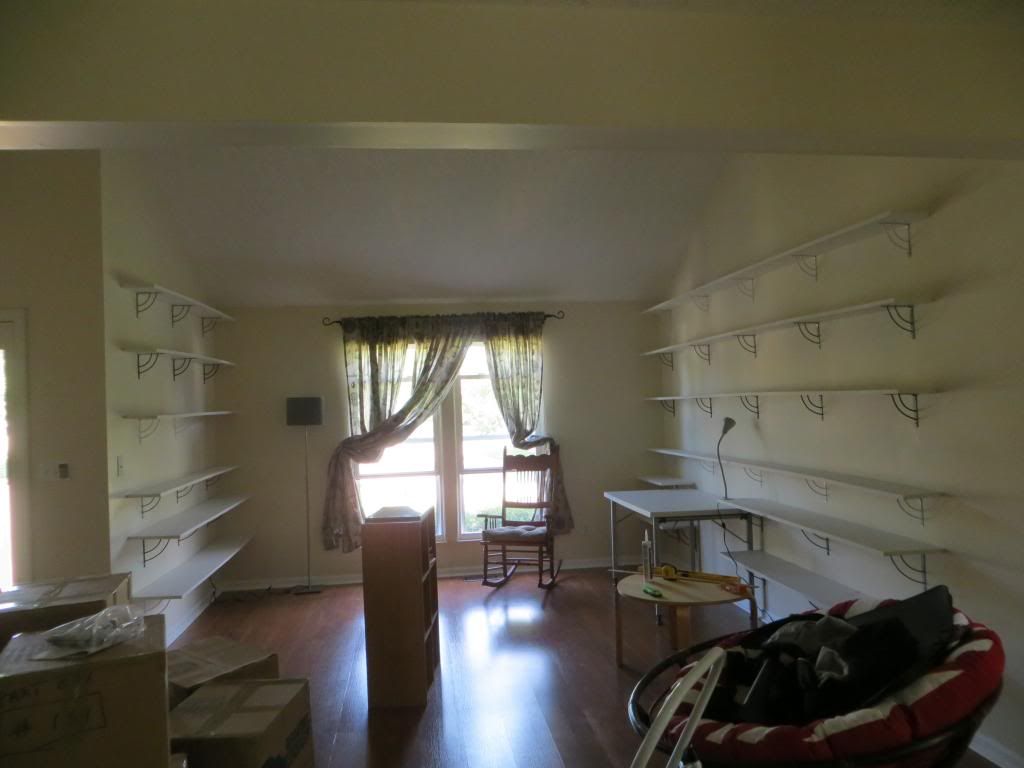 Yeah. So. That was a lot of measuring. And cutting (thanks, Dad!) and painting. And screwing in brackets. And and and. BUT AT LAST, my dream of library domination was near!
… and a week later (because yes, it took me that long to arrange everything, we have this…
Which comes complete with a special section for fiction: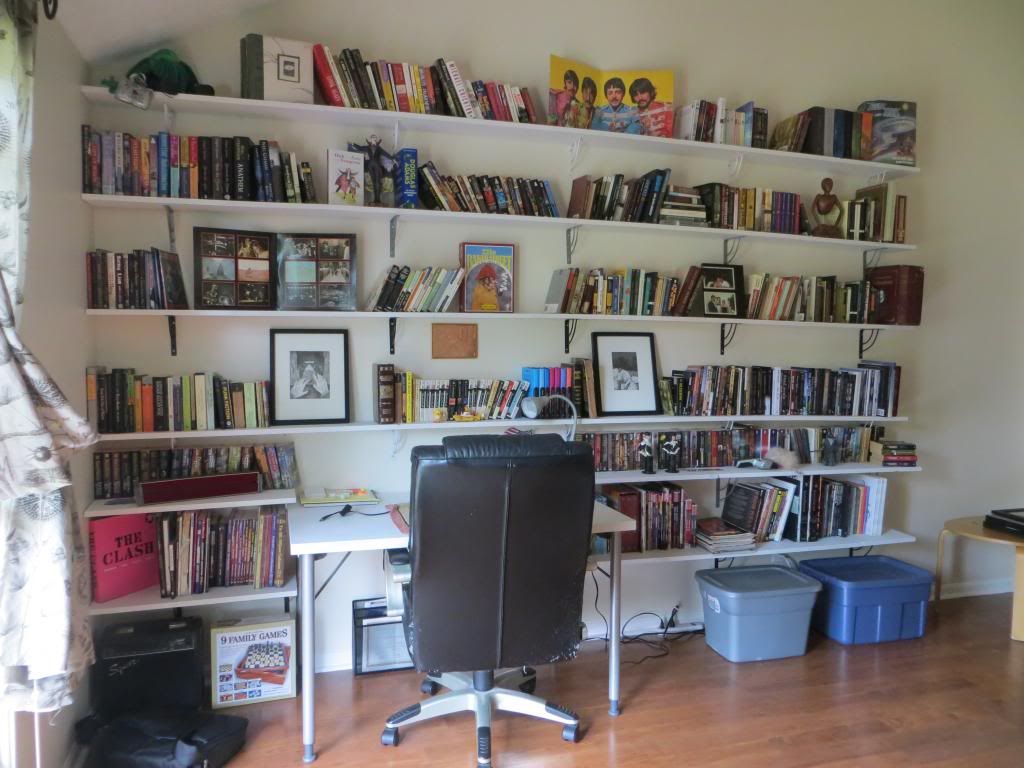 Yes, those are two of the originals of Megan Eckman's RPP covers in frames there. And my Sirius Black wand. And and and. STUFF!
Also, many books by friends there on the middle right hand side.
And then there's the non-fiction, of course: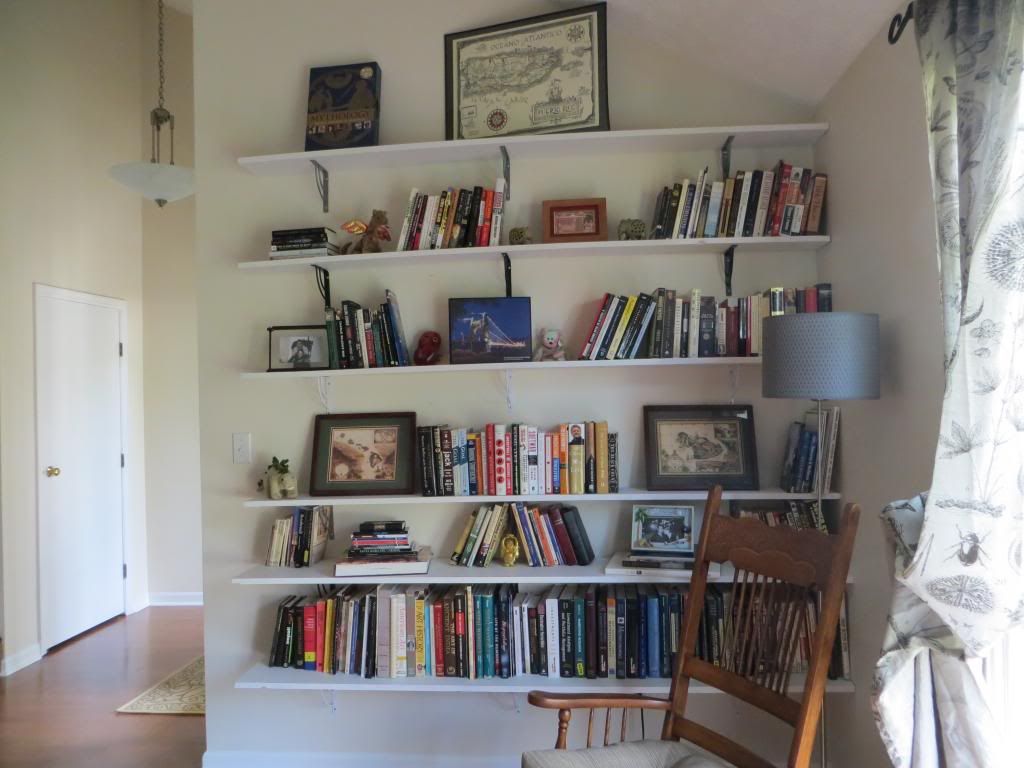 So yeah. THIS is where I've been. I just thought I'd share because… books! Now, we still need to find a proper couch and rugs and stuff, and my comics need to come out of their huge ugly tupperwares, but that can totally wait. For now I'm just gonna go stand int he middle of all my books.
And then back to work.