23 Nov
I hereby pardon myself for the as-yet-uncommitted crime of doing jack shit for the rest of this week. That's right, it is that (in)famous American holiday, Thanksgiving. I plan to eat, drink, and watch football unabashedly.
Also, bring shame upon my family.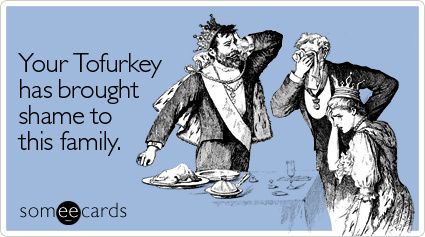 It's true. I once had another veggie friend come over for Thanksgiving dinner. She brought Tofurkey and we made it. It was pretty terrible — and I love tofu. As in, sometimes I want a midnight snack and I go dig out some baked tofu in weird flavors, pop it out of the package and onto a plate, and… eat it just like that. Thankfully since I've been torturing my family in this manner since I was 15, they're really good at making sure the sides are edible for me.
My family is very kind. Yes. Mostly because I think they don't want to hear about my upset stomach all day, but still. I hope your family is as kind, if you're dealing with Thanksgiving this week. And if not, well, I still hope they're that kind, even though they're not bound by random social custom.
I will still be very reachable by email if anyone needs me, but all other forms of communication are pretty much cut off til after the weekend. Much love!